Brush the Sky
A calligraphic family narrative, written onto the skies of Seattle, WA (2015) and San Jose, CA (2019).
Tamiko Thiel: Augmented reality & digital prints / Midori Kono Thiel: Japanese calligraphy & mylar hangings
On-site Artworks Gallery Artworks Videos FacebookBlog Seattle AR map About
Originally created in 2015 as site specific public art + Wing Luke Museum gallery installation, Seattle
23 October 2019 - Premiere of the Silicon Valley Edition:

Euphrat Museum of Art gallery installation, De Anza College, Cupertino, CA.
26 October, 3pm - 6pm: Fundraiser event with keynote by
Tamiko Thiel and calligraphy demo by Midori Kono Thiel

Japantown San Jose, CA site specific public art installations,
sponsored by the Japanese American Museum of San Jose (JAMsj)
with support from the California History Center, De Anza College.
Brush the Sky gallery installation, CONSTRUCT\S exhibit, Wing Luke Museum
This video highlights details of Midori Kono Thiel's unique Japanese calligraphy, deconstructed across multiple mylar layers to create abstract transparent wall hangings. The hangings are overlaid with an animated augmented calligraphy layer by Tamiko Thiel. Click image for video on Vimeo.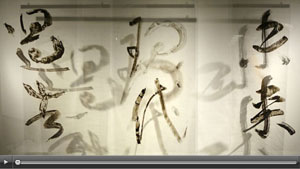 Brush the Sky gallery installation
Midori Kono Thiel: Wing Luke Museum oral history videos
The Wing Luke Museum created these oral history video recordings of Midori Kono Thiel talking about four Brush the Sky sites in Seattle's Nihonmachi/International District.
Go to Wing Luke's Brush the Sky videos page, or click images below for individual videos.
Brush the Sky augmented reality on-site videos
Impressions of what some of the augments look like in situ. For more information on individual sites and their calligraphy, please see the Brush the Sky AR launch map and click on each location.