Artworks exploring the intersection of space, place and cultural memory.
Upcoming Events:
Until 20 Jan. 2021: NYU Gallatin Galleries, New York

Touching, Traces The 2020 Election Diaries. Fine Art prints of iPad greasy fingerprint scans.
In "So Far Away, So Close," on intimacy in virtual and physical spaces.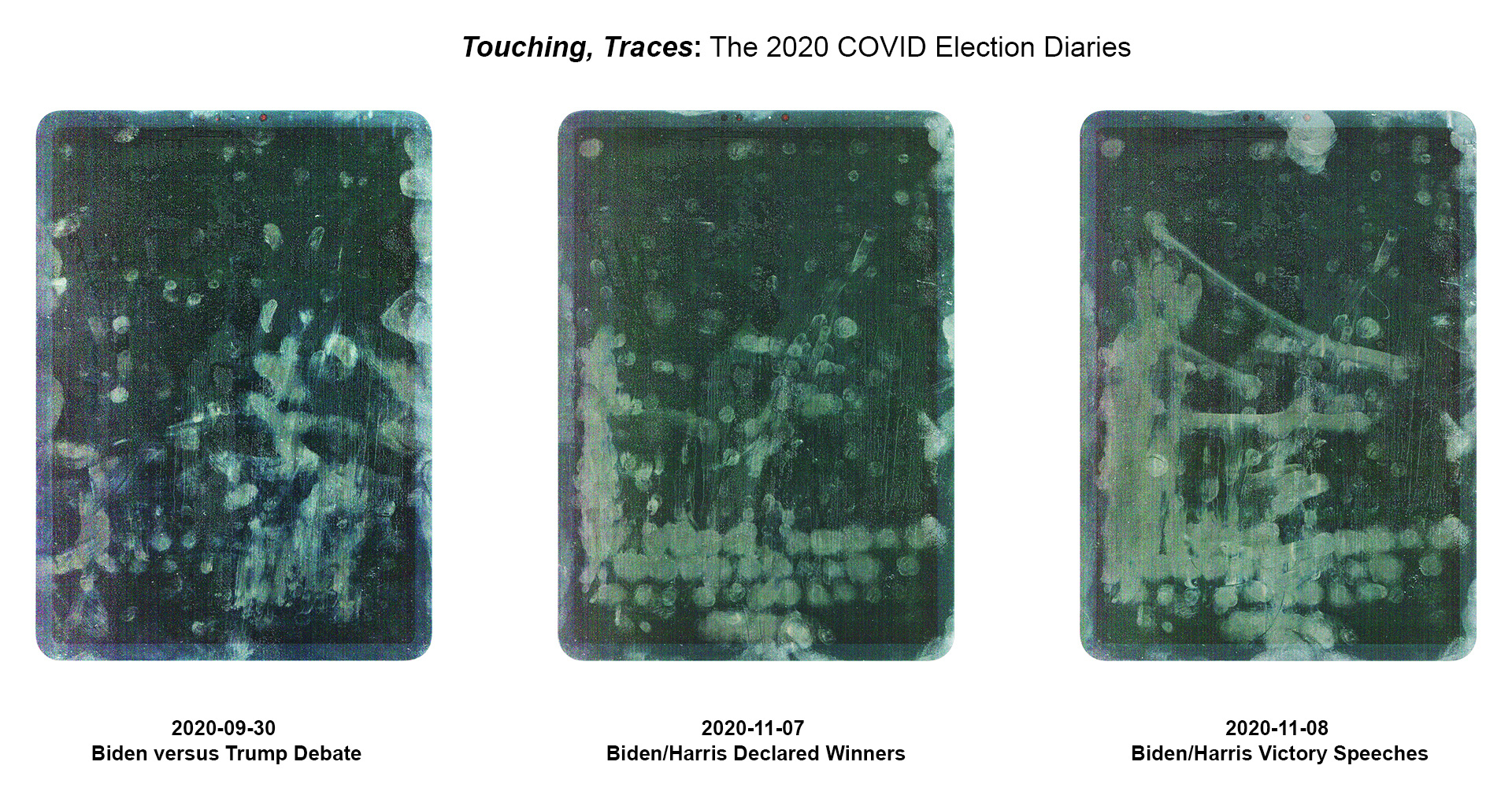 Guest VR artist on the VR film and installation:

My Identity Is This Expanse! by Karolina Markiewicz and Pascal Piron
- 23-27 Nov.: 360 Film Festival, Paris (Winner: Best Sound)
- 12-13 Dec.: PSIAF Palm Springs Int'l Animation Festival, California, USA

Online:
Lend Me Your Face!
Deepfake Artificial Intelligence installation (2020, with /p)
Lend Me Your Face! can be viewed in two online exhibitions right now:
Götzendämmerung (Twilight of the Idols):
Art and AI as Aesthetic Discourse in the Age of Trans- and Posthumanism
Künstlerverbund im Haus der Kunst, Munich:
View the online version of the exhibit as a 3D navigable space in a webbrower. You can walk through the entire exhibit, or jump to the entrance to the LIVE ACT room, where Lend Me Your Face! is shown.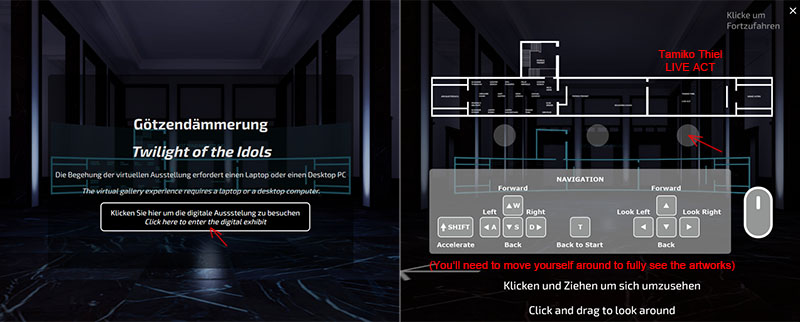 Splash screen and navigation/jump instructions for "Götzendämmerung" online exhibition
"Re-start" exhibit, curator Julie Walsh, for xR Bavaria @ Medientage München :
The exhibit is divided over two spaces: Dome1 has the exhibition text on the whole show and half of the artworks, with a portal to Dome2, which is where my piece "Lend Me Your Face!" is installed along with many other works!
You can enter Dome1 and then make your way to Dome2 and back again, but below is a direct link to Dome2 as well. [ Link to Dome1 ] [ Link to Dome2 ]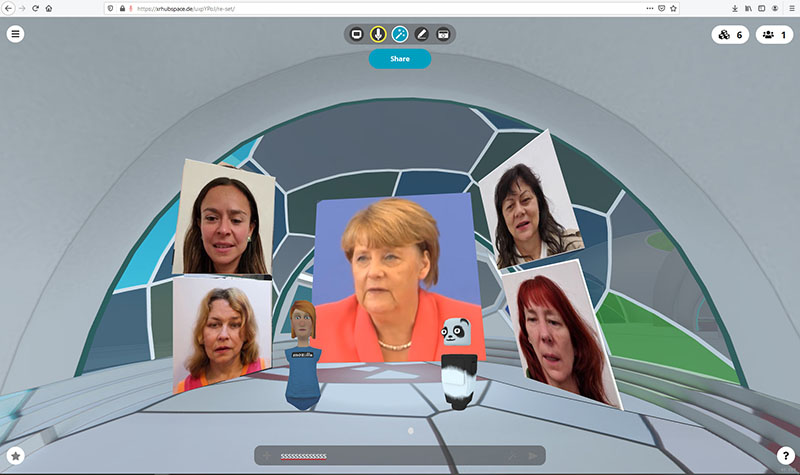 Lend Me Your Face! in "Re-start," curated by Julie Walsh for xR Bavaria @ Medientage München
Ongoing:
Until 17 Nov. 17, 2020: National Library of Latvia, Riga
Unexpected Growth AR installation (with /p)
In "Ecodata" exhibit as part of the RIXC Art Science Festival
Until 17 Dec, 2020: online & @ Telematic Gallery, San Francisco
Suspended Spring AR installation
In "The Archive to Come," group exhibit curated by Clark Buckner and Carla Gannis


Until 21 Feb. 2021: Lichtsicht Triennale, Bad Rothenfelde, Germany
Featuring my AR installations:
Book participation:
"I Love Women Artists" (in German only)
Essays on 100 women artists in Germany, from the 15th-21st centuries.
Written by 100 women curators, collectors, gallerists working in Germany.
Land of Cloud VR installation, essay written by VR curator Tina Sauerländer
To mark the 100th anniversary of women first being allowed to study art in Germany, the artists Janine Mackenroth und Bianca Kennedy asked 100 women from the German art world to write a personal essay about a favorite woman artist working in Germany. The artist range from unknown nuns in the 15th century to contemporary artists of the 21st century.
Tekniska Museet Stockholm, Sweden

The exhibit "Hyper Human" is showing the only Connection Machine on public display in Europe:
Blog post "Connection Machine: Världens första kommersiella AI-dator"
Connection Machine CM-2, (1987, Thinking Machines Corporation)
Massively parallel supercomputer with 65,536 processors, invented by Danny Hillis.
Product Design team led by Tamiko Thiel, with industrial design by Gordon Bruce and Al Hawthorne, and mechanical design by Ted Bilodeau.