Lotus Meditation
Augmented Reality Installation (with /p), 2019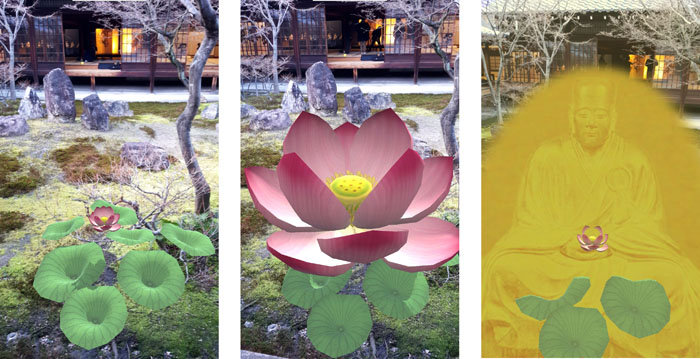 Lotus Meditation
was developed for the
Art Innovation exhibition and symposium
, jointly held by Kyoto University and Goldsmiths University of London art college.
It is geolocated in Chuo-on-tei, the "Garden of the Sound of the Tide," in
Kennin-ji
, the oldest Zen temple in Kyoto. When you start the app, you will be surrounded by small lotus flowers. If you view one of the flowers in the exact middle of your smartphone display, it enlarges to embrace you, revealing its secret treasure: Eisai, the founder of Kennin-ji and the monk who brought both tea and Zen to Japan. As you trigger more of the flowers, you will be surrounded by Eisai's images in gold.
This is not easy: you must quiet your mind and focus on the lotus, cupping it gently in your hands!
Lotus Meditation
is available in the App Store and Play Store as a channel in the
ARpoise
AR app.